Northwest Denver is a mosaic of welcoming neighborhoods offering a taste of Colorado living at its best. This vibrant area is filled with family-friendly features ranging from art galleries and ice cream parlors to scenic lakes and luxury real estate.
Families love living in Northwest Denver for many reasons, including the following ten benefits.
An attractive array of architectural designs
Spacious homes in a variety of traditional architectural styles line the lovely streets of Northwest Denver's neighborhoods. There are Tudors in
Sloans Lake
, classic brick bungalows in
Sunnyside
, and Victorians, Denver Squares, and classic cottages in West Highland. LoHi, which is short for Lower Highland, features ultramodern designs and elegant condos. Sleek, contemporary homes can be found in
Berkeley
and other neighborhoods. Charming ranch houses populate the neighborhood of Chaffee Park.
Homes in
Highlands
neighborhoods are highly sought after and are likely to sell swiftly once listed. The same holds true for Sloans Lake homes, Sunnyside homes, and Berkeley homes.
A sense of history
Northwest Denver residents take pride in historically significant architecture found in neighborhoods such as the
Potter Highlands Historic District
, which is situated in the Highlands. This district, which is listed on the National Register of Historic Places, is filled with houses constructed beginning in 1874 on land the Baptist Home Mission Society sold for development.
High-style Queen Anne homes in the Potter Highlands Historic District often feature two-story porches with spindle balustrades, corner turrets, and towers. Other architectural styles in this district include Craftsman Bungalows, Classic Cottages, and simplified Queen Anne. Properties in the area typically have large backyards.
Parks with picturesque lakes
Northwest Denver families love their local lakes.


They enjoy boating and water-skiing on the 177-acre lake at

Sloan's Lake Park

. This outdoor recreation venue offers tennis courts, athletic fields, trails, playgrounds, picnic areas, and scenic views of the Rocky Mountains.

Waterfowl such as coots, pied-billed grebes, and cormorants inhabit the 24-acre lake at

Rocky Mountain Lake Park

. The park's amenities include a shoreline pathway, ball fields, tennis courts, and a playground.

A 34-acre lake is the focal point of

Berkeley Lake Park

, which also offers beautiful Rocky Mountain views. This recreation site features sports courts, athletic fields, a playground, a dog park, and indoor and outdoor swimming pools.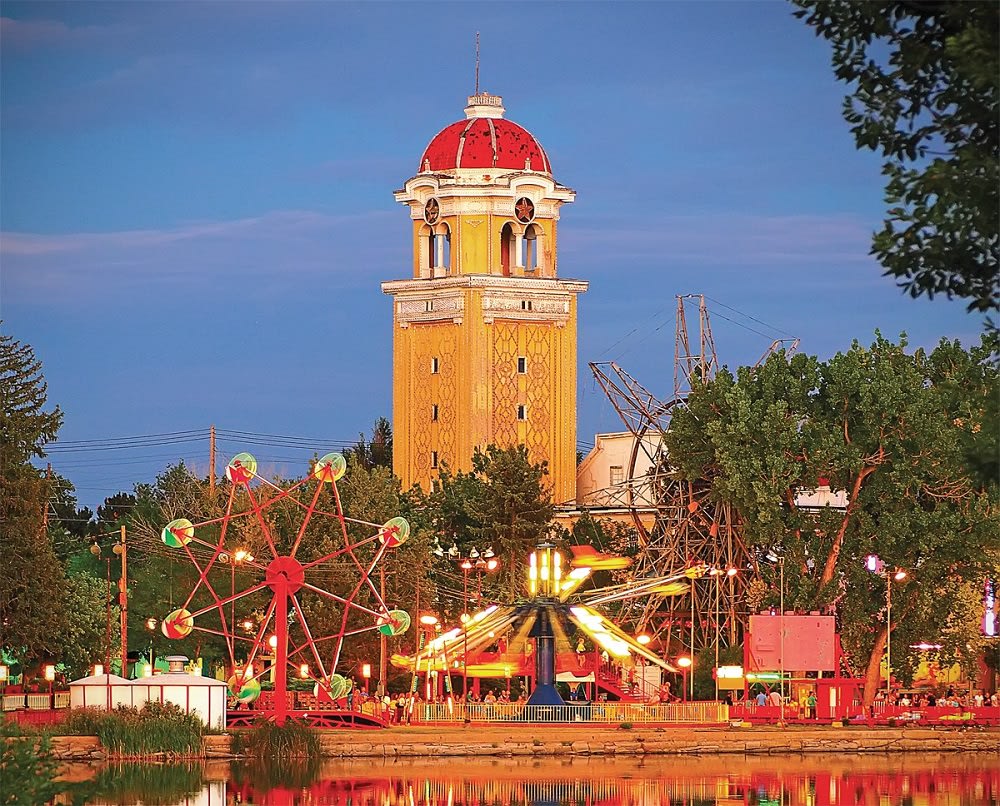 Photo courtesy of Denver Westword
A syndicate headed by Denver brewer Adolph Zang built

Lakeside Amusement Park

, which opened in 1908. Today, its historic wooden Cyclone, installed in 1940, is one of America's only pre-World War II roller coasters still in operation. The body of water situated alongside the park is called Lake Rhoda. Ben Krasner, who saved the amusement park from financial ruin during the Great Depression, named the lake after his daughter.
Good schools and conveniently situated colleges
Northwest Denver's
North High School
focuses on academic excellence, and it has paid off.
From 2014 to 2019, this school achieved a higher increase in its on-time graduation rate than any other Denver public school. North was the only high school to meet the school district's expectation of an 85% graduation rate and grow its on-time graduation rate by more than 10%.



In 2019, North students outperformed the national average for Advanced Placement tests for two-dimensional drawing, biology, computer science principles, English literature, Spanish literature, and human geography.



In 2020, 100% of North High School's graduates were accepted into college or postsecondary programs.
As for colleges, Northwest Denver is the home of
Regis University
, which the Jesuits established in 1877. This school offers more than 120 degrees and programs. The
Auraria Campus
is situated at the edge of Northwest Denver. Three institutions of higher learning share this 150-acre facility:
Community College of Denver

Metropolitan State University of Denver

University of Colorado Denver
The architectural crown jewel of the Auraria Campus is the Tivoli Student Union, a restored 1870s building that German-born Moritz Sigi originally constructed as a brewery. In recent years, a portion of the building was transformed into a tap house and brewery for the revived Tivoli Beer brand.
Family-friendly restaurants
Northwest Denver is filled with welcoming restaurants offering palate-pleasing food and enjoyable dining experiences for both adults and children. Here's a sample of the area's family-friendly dining options.
LoHi restaurant

Root Down

is in a repurposed, remodeled gas station decorated with midcentury modern furniture. A covered patio is ideal for warm-weather dining. The restaurant's tasty dishes are made with vegetables and herbs grown in a 6,000-square-foot organic garden. Root Down's owner, Edible Beats, locally sources more than 50% of the ingredients for its six restaurants from Colorado ranchers, farmers, and growers.

Avanti

, also located in LoHi, is a food hall constructed from shipping containers and tenanted with small restaurants. They serve several types of crave-worthy cuisine, including Venezuelan arepas, Naples-style pizza, and Asian street food. Outdoor seating on a rooftop deck provides scenic views of downtown Denver's skyline.

A third LoHi restaurant,

Acova

, donates $2 from the price of every item on its kids' menu to charities that help children. Almost all the dishes on the adult and children's menus are gluten-free or can be made with gluten-free recipes if that's what the customer prefers. Co-owner Betsy Workman understands how hard it is for people who can't eat gluten to dine out safely, as she and her son live with celiac disease.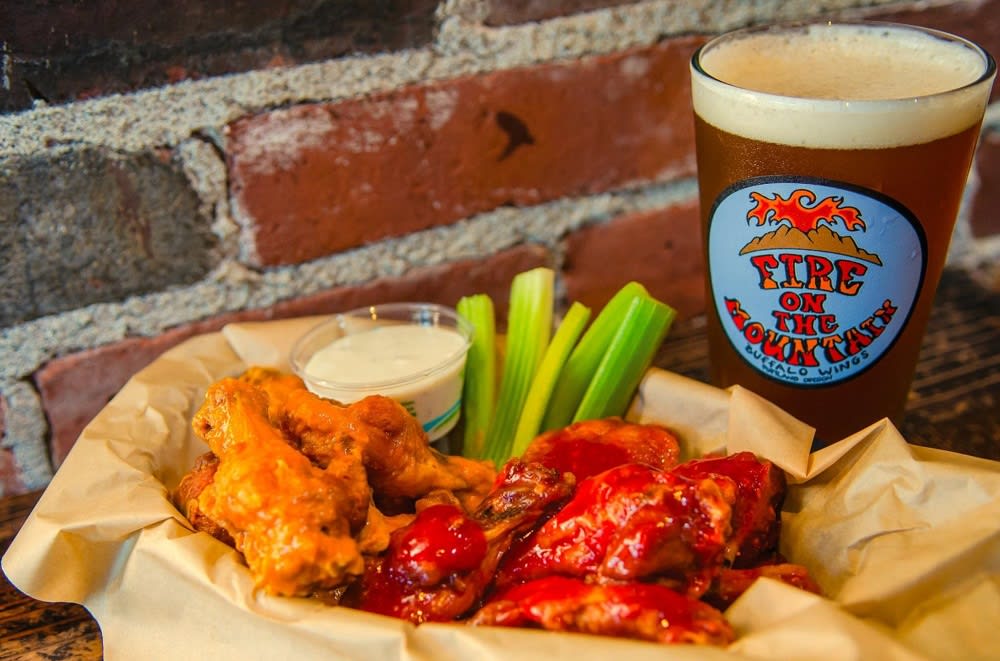 Photo courtesy of Fire on the Mountain
Fire on the Mountain

offers a children's menu and serves kid-friendly boneless chicken tenders as well as traditional bone-in chicken wings, vegan seitan strips, and cauliflower wings. The restaurant, which has a West Highlands location, uses responsibly sourced ingredients, including cage-free, antibiotic-free chicken and free-range beef from Colorado.

Ragin' Hog BBQ

in Berkeley serves southern-style barbecue with homemade sauces and side dishes such as Brunswick stew and collard greens. Buttermilk pie is the star of the dessert menu. Eating barbecue is great, messy fun for both children and grownups.

High Point Creamery

, an ice cream parlor with a location in Berkeley, offers "flights" consisting of five dishes of different ice cream flavors plus a bowl of chocolate sauce or caramel sauce. Everyone in the family can take bites of all their favorite flavors in a single sitting — and practice their sharing skills.
Tennyson Street's Art Walk
The First Friday Art Walk
is a long-running event on Tennyson Street, a Berkeley retail corridor populated with cafes, restaurants, and shops. Lapis Gallery, Westward Gallery, and other art purveyors keep evening hours on First Fridays. Local musicians give alfresco performances, and food vendors stand ready on street corners.
The Oriental Theater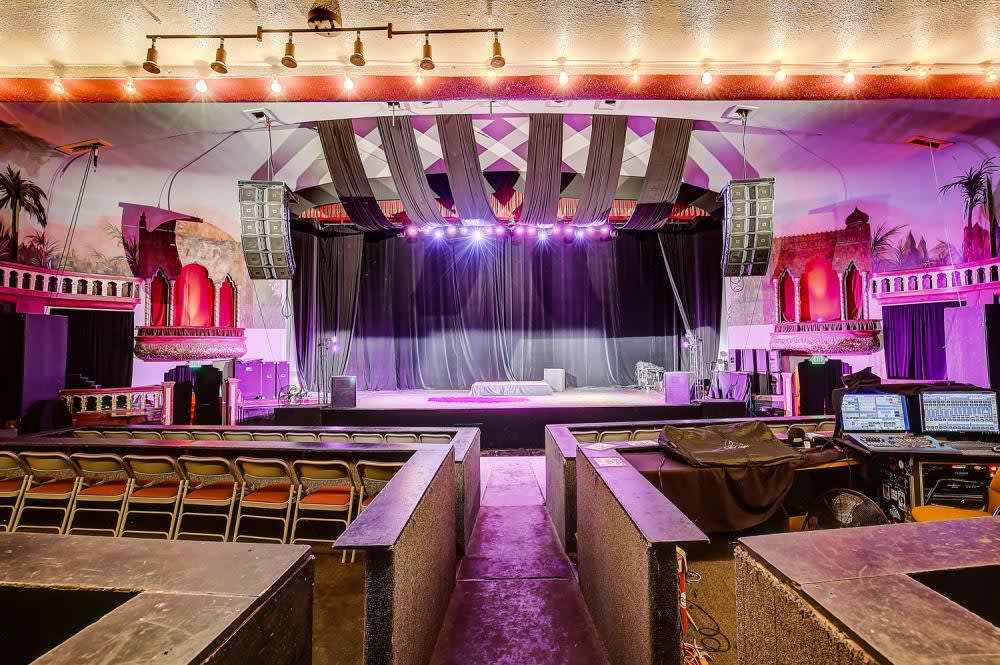 Photo courtesy of The Oriental Theater
An entertainment venue with a convenient location for Northwest Denver families is
the Oriental Theater
on Berkeley's Tennyson Street. The theater hosts music, comedy, and other types of live performances as well as film screenings. The interior features include a dance floor and a balcony with more than 100 seats.
The renovated building, which is
listed on the National Register of Historic Places
, began its existence as a motion picture palace. It is the only movie theater Cornell-educated architect Leo Desjardins is known to have designed. Scenic artist Paul Randolph of the National Theater Supply Company designed the Oriental's interior.
The Highland Pedestrian Bridge
The Highland Pedestrian Bridge is a favorite landmark for Northwest Denver families who love strolling and cycling. The 323-foot span topped with an iconic white arch hangs over Interstate 25. From the bridge entrance at the edge of LoHi, Highlands residents can walk or bike directly to downtown Denver's
16th Street Mall
. This mile-long pedestrian shopping corridor designed by famous architect I.M. Pei is lined with 200 trees.
Dragon boats and musical celebrations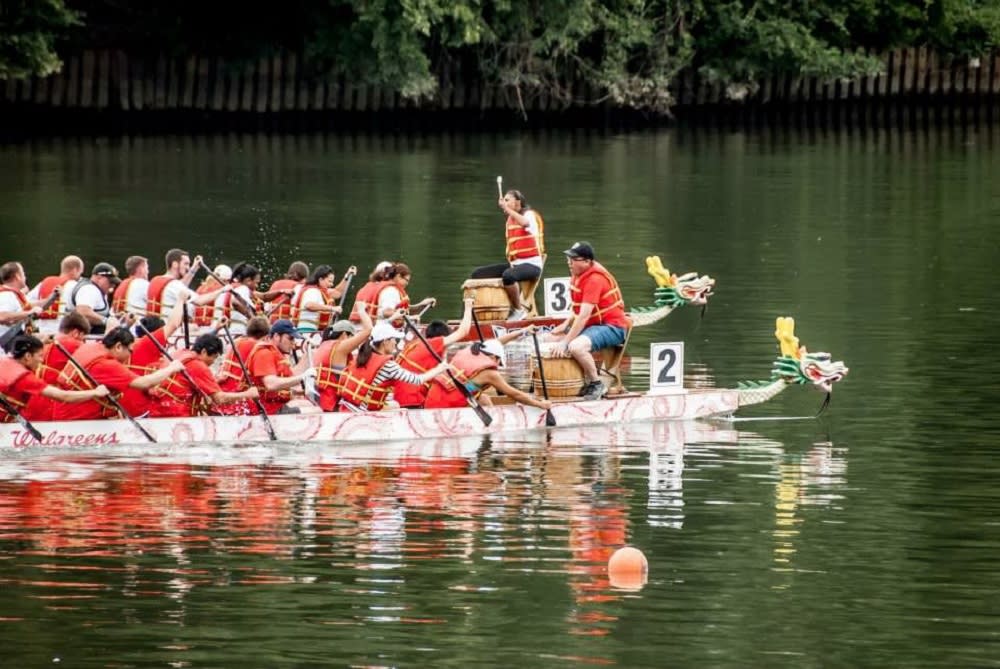 Northwest Denver residents come together for annual festivals.
Sloan's Lake Park is the setting for

the Colorado Dragon Boat Festival

, which celebrates and promotes the accomplishments of the state's Asian American and Pacific Islander communities. Three stages serve as venues for bands, dance troupes, martial arts performances, and more.

The Sunnyside Music Festival

showcases local musicians, artisans, and entrepreneurs. In years past, it has drawn more than 10,000 attendees. The festival takes place in Chaffee Park, a Sunnyside green space that shouldn't be confused with the Northwest Denver neighborhood called Chaffee Park.

The Highlands Street Fair

is a summer celebration with live bands, food made by local restaurants, and sidewalk shopping. The venue is Highlands Square, which is the commercial core of the Highlands.
Proximity to pro sports venues and museums
Professional sports facilities and museums are conveniently situated at the edge of Northwest Denver, near the shores of the South Platte River.
Empower Field at Mile High

is an iconic stadium that serves as the home of the National Football League's Denver Broncos. The stadium's name refers to its elevation — it stands 5,280 feet above sea level. Empower Field at Mile High maintains a concert schedule featuring world-famous bands and performers.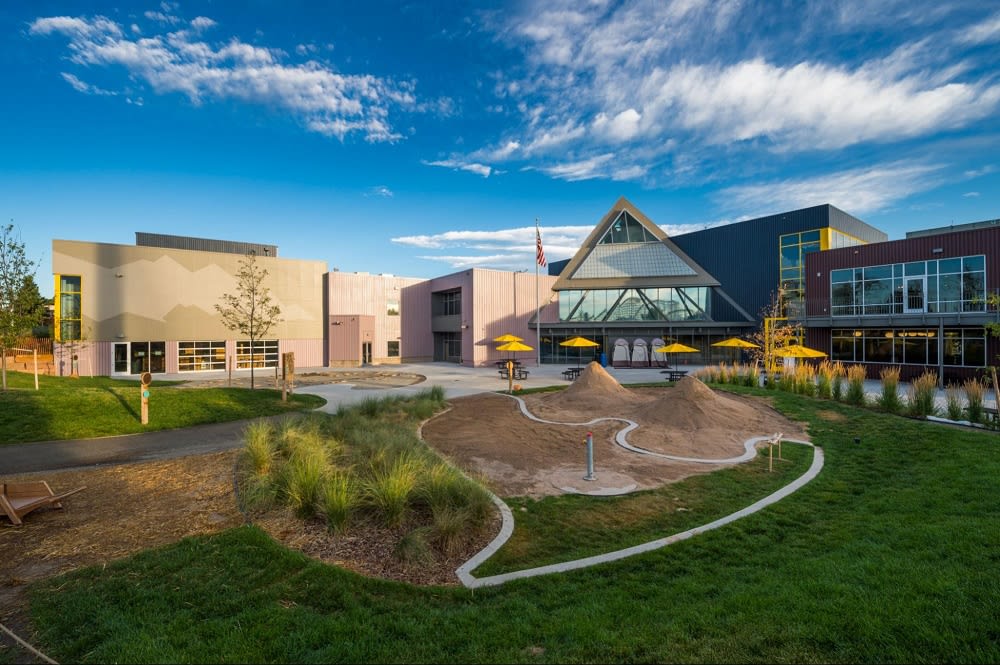 The Children's Museum of Denver at Marsico Campus

MCA Denver

is a museum devoted solely to contemporary art. The museum is housed in an environmentally sustainable building designed by award-winning architect Sir David Adjaye. The museum's mission is to support openness, innovation, and risk-taking among today's artists.

Coors Field

is the ballpark for Major League Baseball's Colorado Rockies.
Are you ready to buy a home in Northwest Denver?
Now that you know why families love living in Northwest Denver, you may be ready to take the next step and purchase a property in this beloved section of the Mile High City.
Denver real estate agent
Jason Sirois
can serve as your trusted advisor in your home search and guide you through every step of the buying process with professionalism and courtesy. This Compass real estate agent is deeply knowledgeable about Denver luxury homes. He will negotiate the best possible deal for you and help you meet your real estate goals.
Contact Jason today
.