Denver, Colo., is widely appreciated as a great place to vacation; for many, it is also a great place to live or own property. The city has a robust economy, thanks to its large population and location relative to other major economic hubs.

There are a variety of neighborhoods and homes in Denver, with a large downtown area and several lovely suburbs. Many factors contribute to Denver's bustling real estate market, making the city worth looking at for investment purposes. Here are a few points to consider when considering an investment in Denver real estate.
Denver has seen much recent growth
Denver is the most populous city in Colorado and one of the most populous metropolitan areas in the U.S.
According to the U.S. Census Bureau
, the population of Denver increased by over 19% between 2010 and 2020, with the 2020 census data showing that well over 700,000 people occupy the city. With such a large population, Denver has many commercial and residential areas, including a wide variety of neighborhoods stretching out from downtown to several major suburbs. This means it is crucial not just to know Denver in general but to have a good feel for the specific area in which you are looking at homes in Denver.

While Denver has a lot of different neighborhoods with a variety of housing, the city has benefited from growth in recent years. Economic and population growth are essential factors in keeping any real estate market active. Denver's large population and expansive industrial development sustain a large economy and a robust real estate market, which definitely contributes to the case for Denver real estate as an investment. Owners of Denver real estate will likely have a steady stream of tenants or buyers interested in their property, thanks to the continuing popularity of Denver as a place to visit, live, and work.
Denver has a robust economy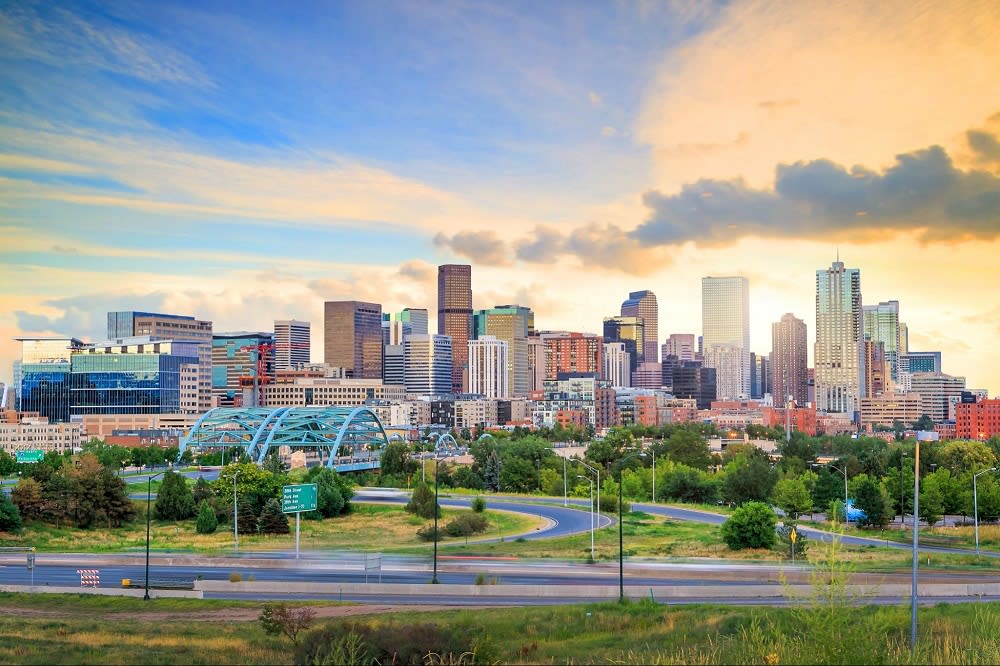 Photo courtesy of Shutterstock

One of the perks of owning Denver real estate is having access to a large downtown area with a diversified economy and many employers. In addition to being one of the most populous cities in the U.S., Denver also has one of the largest urban economies in the country. Various large companies are headquartered there. Apartment Investment and Management Company (AIMCO), one of the largest real estate investment companies in the U.S., calls Denver home, as does U.S. Newmont Mining Corporation, one of the world's largest gold-producing companies.

What's more, Kroger, Lockheed Martin, and United Airlines have significant operations in Denver. Numerous other companies have been founded or headquartered in Denver over the years. The city has a well-developed economy with various jobs and careers available.
According to a
report by the city government
, the energy industry is one of the significant drivers of Denver's economy. However, in addition to oil and gas, Denver has an expanding "cleantech" industry, which produces technologies that are regarded as sustainable or eco-friendly. In this way, Denver has a diverse and well-rounded economy that could benefit from future conditions. This is important when considering Denver real estate, given that real estate is a forward-looking investment that often has a long-term time horizon.
Denver is a central hub for travel and commerce
Part of Denver's significant population and economic growth is its location and infrastructure. Denver is the largest city within a radius of about 500 miles, making the city a natural distribution hub for goods and services in the American west and southwest.

For example, Denver International Airport is one of the top ten busiest airports in the U.S. The city has several smaller airports as well. Numerous state and interstate highways converge in Denver, facilitating the city's economic growth and securing its position as a hub for the manufacture, storage, and distribution of goods.
Denver is considered a great place to visit
The reputation of a city, especially its ability to draw newcomers from other locations, is another essential factor in the value of local real estate. Denver is known to be an ideal vacation spot as well as a great place to live.
In addition to having many great destinations for dining, drinks, and entertainment, Denver is a great place to get out into nature with numerous hiking and mountain biking trails. The city's proximity to the Rocky Mountains makes it a
great tourist destination
for those who love the outdoors. The Denver area is a popular skiing destination in the winter, whereas hiking, climbing, camping, and other outdoor activities are popular in warmer months. The combination of a thriving urban center with the treasure of surrounding natural features guarantees an influx of tourists and residents to Denver. This is mainly a plus for those interested in earning income from short-term rental properties. Check out the city's "
Top 10 Reasons to Visit Denver
" for more information about some of the attractive features of Denver.
Learn more about Denver by talking to a realtor
Looking at Denver in general, there is a compelling case for investing in Denver real estate. The city has experienced tremendous growth in recent years, contributing to its robust economy and active real estate market. Regardless of any ups and downs in the U.S. market, Denver remains a major center of economic activity and an important location for distributing goods and services to surrounding areas. These factors make Denver a popular destination for relocating, helping to keep up property values.
In addition, Denver's reputation as a great vacation spot in summer and winter alike helps to bolster tourism and deliver value to owners of short-term rental property. Regardless of your real estate investment goals, Denver will likely offer opportunities that suit your future outlook. To explore current opportunities in more detail, consulting with a real estate agent who knows the area is worthwhile. When you are ready to explore available homes in Denver, contact
Jason Sirois
for more information.

*Header photo courtesy of Shutterstock