Denver, the capital of Colorado and destination for lovers of the outdoors, boasts a metro population of just over 715,000 residents. It is currently the fifth most populous state capital in the nation. It sits exactly one mile above sea level, about 11 miles east of the Rocky Mountains, and covers an area of about 155 square miles. In 2016, the U.S News & World Report named Denver the
best place to live
in the United States.
The Mile High City is an outdoor lover's paradise, with many exciting activities to enjoy all year round, from skiing and skating to boating and mountain climbing. Nature lovers can head to the
Denver Botanic Gardens
, which span 24 miles. The gardens also feature live performances, classes, tours, and exciting exhibitions. Hikers can scale Pike's Peak or take other trailheads from Rocky Mountain National Park.
The current median price of Denver real estate is about $750,000,
up significantly from last year's median
of $660,000. The area is experiencing a seller's market with fewer available homes than interested buyers. As a result, sellers are receiving multiple offers on their homes for sale in Denver, some of which may be above their asking prices. They could also experience bidding wars amongst buyers eager to relocate to the area.
As a result of these market conditions, buyers like you may have invested in a house you love that has off-putting interior design features. Once you've found your new home, you don't have to settle for its existing décor. Here are some suggestions on how you can customize your space.
1. Attractive storage options
When people think of home storage within Denver real estate, furniture such as closets, armoires, and bureaus come to mind. Storage is often considered something that should hide behind doors, drawers, curtains, and storage containers. Times are different now. Homeowners can now unabashedly bring their storage space into visible displays.


Install some bookshelves — whether ready-made or custom-built — and equip them with canvas containers or woven baskets to store your belongings. This will help you extend storage options and provide eye appeal in a room, especially if you have a narrow or short wall that can't accommodate your furniture.
2. Wall finish and color alternatives
Walls are usually finished with flat, neutral-color paint finishes. If this is what your walls look like, consider adding upgraded wall finishes, such as Venetian plaster or textured wall coverings. Venetian plaster is a loose, batter-like substance applied to walls and ceilings with a trowel. After the plaster dries, it is burnished to resemble marble. Textured fabric or grasscloth wallpaper is
a unique alternative to wallpaper
.
Further, homeowners have almost always painted their walls with light, neutral colors because it was widely assumed that other colors would be too trendy and make spaces seem smaller than they were. These days, it's common to find kitchens, living rooms, and bedrooms painted in dark tones such as burgundy, indigo, and espresso. Color creates an inviting space, whether you paint one wall or a room. However, if you're not ready to redo an entire room with such an intense color change, you could paint a smaller area, such as the guest bathroom or foyer, with a vibrant magenta or deep teal. If the final product doesn't thrill you, it's only paint!
3. Create a great room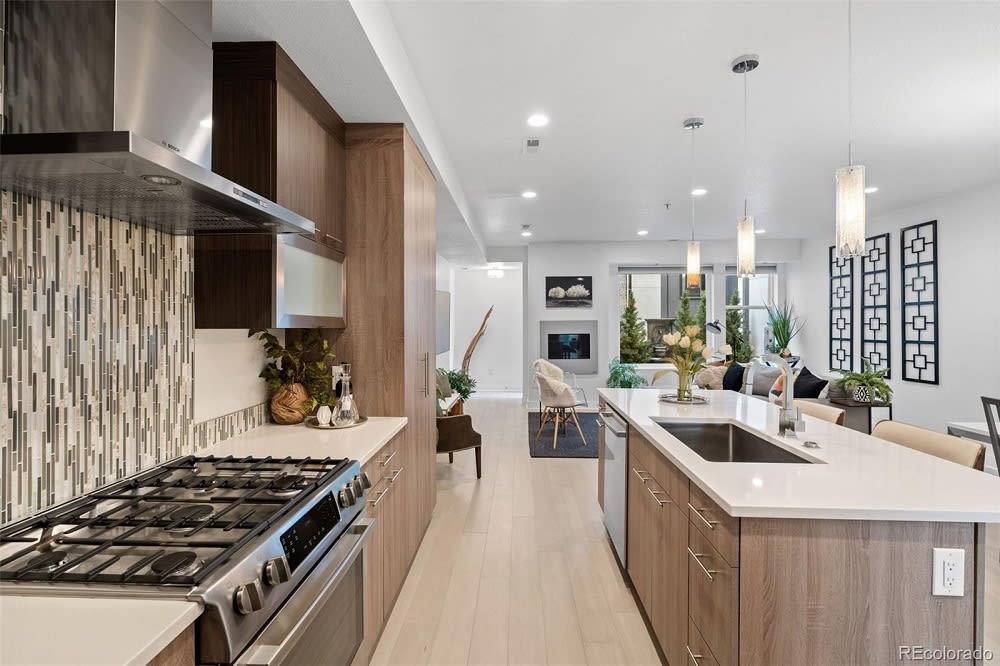 Photo courtesy of Jason Sirois
Homes for sale in Denver used to be very compartmentalized. Houses would sport separate kitchens, living rooms, dens, family rooms, and formal dining rooms. Floorplans resembled boxes glued together, and even those for custom homes were no exception. However, in the last 10 years, the "open floor plan concept" has become increasingly popular amongst homeowners, so developers are building open floor plan houses as part of their repertoire of model homes. Don't lose hope if your home falls into the old-school boxy floor plan! You likely don't need to build or change your home's external footprint to create a great room or open floor plan. You can create a more open floor plan by removing non-load-bearing walls that separate rooms.

For example, many homes have a counter on a half wall between the kitchen and the dining room. It usually consists of a counter or prep area that faces the kitchen and is topped with a granite or laminate countertop so guests in the dining room can gather food from the countertop. Removing this divider opens the kitchen and dining areas into one space that's easy to navigate. It allows food to be transferred directly from the kitchen to the dining area, creating a more relaxed atmosphere and eating room.
4. Create a home entertainment room
Celebrities such as LeBron James have the resources for upscale
home cinema
configurations, but that doesn't mean the rest of us are left in the cold. Dedicated entertainment spaces are on many homeowners' wish lists. Back in the day, homes for sale in Denver used to have family rooms and unfinished basements that housed pool tables, air-hockey tables, ping-pong tables, and more. Sometimes, they also served as gathering spots for family and friends to watch TV.
These days, homeowners think bigger: bowling alleys, indoor pools, skating rinks, or handball courts. It's the same with movies and TV: comfortable Barcalounger seating, mini-fridges for self-serve snacks, and black-out curtains to simulate a commercial movie theater complete the dedicated space. If you have a spare room, that space could be devoted to entertainment, or you could build it out to make a roomy space that multi-tasks your family's favorite pastimes.
Local realtors are eager to help you find your dream home and Denver real estate. Once you've settled in, they can provide great suggestions and more interior design tips to customize your new home. Ready to take the next step? Reach out to local Realtor
Jason Sirois
for expert guidance.