Denver area homes appreciated 6.9% in March 2021! This is what we typically see in an entire year!!
This is the April 2021 Denver Area Market Update.
Let's start right away with the stat that has everyone's head spinning… including both attached and detached homes… our market saw an appreciation increase of 6.9% in the month of March. This is equivalent to what we would traditionally call an amazing YEAR of real estate.
The drive behind this mass increase is the truly incredible DEMAND for homes that we are seeing right now which is directly correlated to low mortgage rates and a desire for MORE space as working and learning from home is now the norm.
We saw over 4800 homes close in March. 3200 of which in the detached market and 1600 in the condo/townhome/multi-unit market. This indicates that single family homes are the primary target for buyers where most of the competition is focusing.
Once again, we have set a new LOW inventory record for month end. This doesn't tell the entire story though. Remember, despite inventory clocking in LOW at midnight on March 31st. We still saw over 4,800 homes close.
The best way to see the relationship between closed homes and inventory at month end is my favorite graph in the monthly report.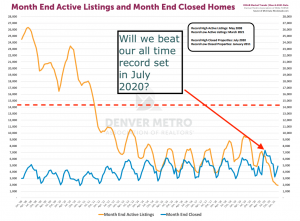 The orange line has NEVER been lower. This is the total ACTIVE homes on the market at March month end. To give you some perspective I have added this dotted red line in the middle to give you a reference point to our 35 year AVERAGE at 14,250. We ended the month with 1,921.
The blue line is total homes closed. Every hump in this line is a calendar year and we are off to a fast start. What's interesting to me about this line in particular is how relatively flat the trend is compared to the inventory trend…. I can't wait to see if 2021 shakes out to be another record setting year for homes sold. There's a good chance we will beat the all time record homes sold in a single month set July 2020 or the entire calendar year… also set in 2020.
4 days to a contract accepted for single family and 5 days for the attached market. This 4 or 5 days by the way is not the time between going active and an offer coming in… this is the time between going active and deciding which of the MANY strong offers the seller is choosing between.
If you are on the fence about buying right now… consider the following.
In support of waiting to buy… 
You will be up against MORE buyers than ever before.

Winning offers will have appraisal coverage which is the willingness of a buyer to cover the difference **with cash** between an appraisal that comes in below what you offered and your offer amount. You won't know if you have an appraisal lower than your offer until the report comes in mid way through the transaction. This is why it's KEY to work with a real estate professional who thinks like an appraiser.

The offers you are competing against are waiving the ability to object to anything found during the inspection. This leaves you the ability to still do an inspection and terminate at no penalty should you find a major problem, however waiving the ability to ask the seller to make any repairs or concessions.
In support of buying NOW…
There is only one reason…

You will pay more if you don't

… and here's why.

Mortgage interest rates will probably go nowhere but up from here as we continue to inch back towards "normal" or "stability" in the economy.

Denver is great place to live. Those of us who already live here know that. People who don't live here yet ALSO know that and will continue to relocate and plant roots in this great place to work and play.

The likelihood of homes losing value is slim. The "Everything Must Go" firesale we saw from 2006 to 2010 will not repeat itself anytime soon. The best case scenario for buyers planning to wait it out until things "cool off" is the slowing of appreciation. Don't forget… we saw a 6.9% increase in Denver area homes LAST MONTH.
If you are on the fence about selling right now… consider the following. (inverse from what I mentioned for buyers)
In support of waiting to sell…
You might get more for your home. If your home is worth the average sale price today of $675,000 and we see another 6.9% increase in value like we saw last month, that's $46,575.

You live in a home that suits your needs perfectly.
In support of selling NOW…
Buyers have more purchasing power than ever before which is giving buyers confidence to swing for the fences. For every offer that is accepted, there are often several other STRONG offers that were not. Those buyers have to lick their wounds, suck it up and prepare for another hero offer next weekend.

Our current environment favors sellers (a LOT). Sellers are often able to choose between several offers with ZERO contingencies or obligation to fix items that come up in an inspection.





You might be thinking… but Jason… If I sell high, then I have to buy high… why would I want to become a buyer right now??

If you sell high, yes… you'll have to also buy high (which is a lot better than the alternative of selling low)… HOWEVER, the deciding factor should be… what is the cost of your money? Right now, it's cheaper than ever. Also, there are ways to structure a transaction that ensures you won't have to move twice OR make a contingent offer. Leveraging time is one of the many levers in a real estate transaction. With extended escrow periods and or rent back agreements (up to 60 days in the state of Colorado) post closing, you can give yourself plenty of cushion to sell your current home prior to closing on our replacement property. I've worked with many buyers who have accommodated a seller's request for extra time between closing day and possession date.
To wrap it all up… this is an environment where both buyers and sellers are winning, but seller's hold the leverage.
To stay current on Denver Real Estate, be sure to follow me on Instagram.
Be well and stay smart.